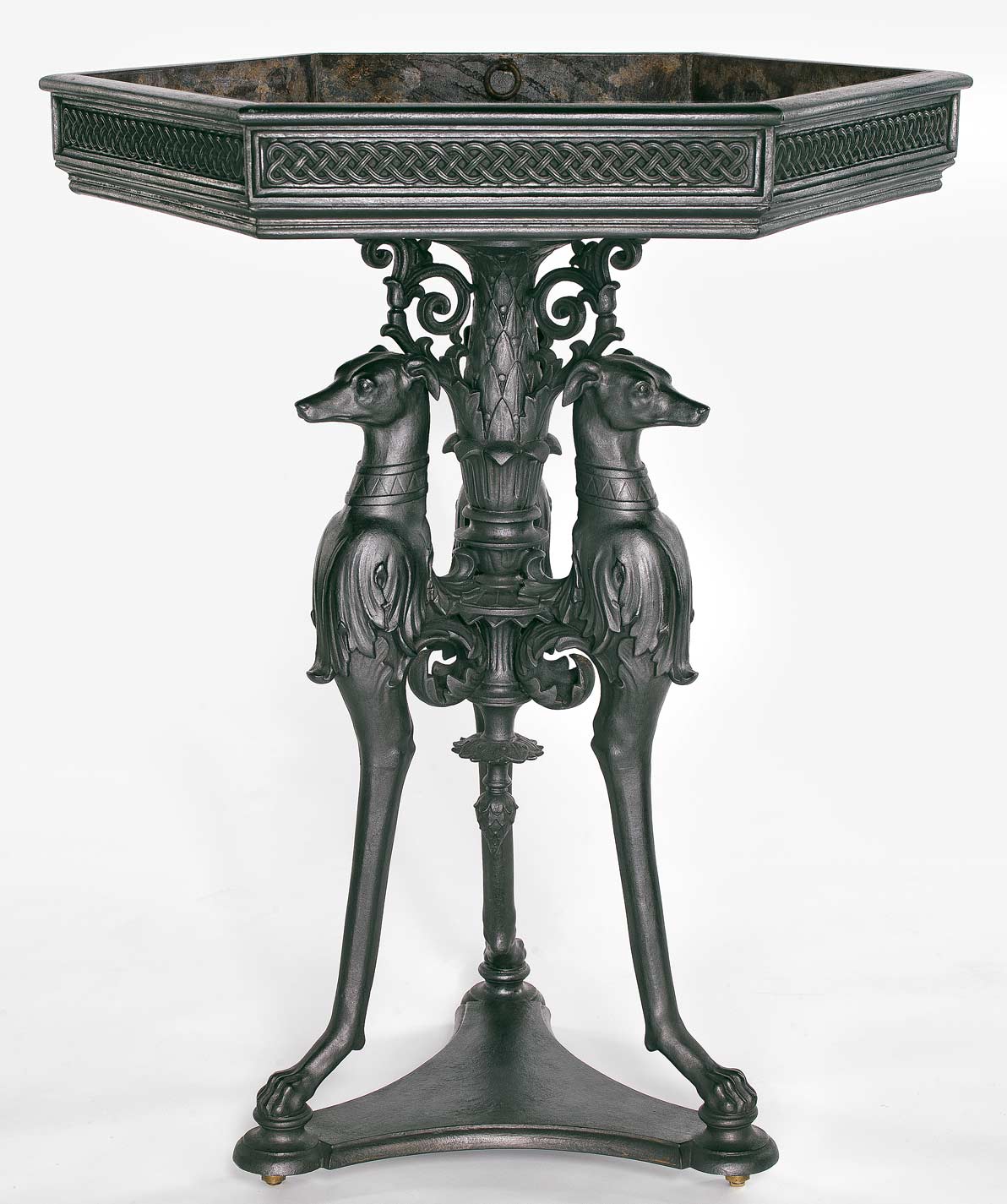 Details
By the end of the 1830s, zinc had become established as a material in architecture and painting. The zinc casting method was developed by the firm of Johann Conrad Geiss (1794-1846) & Philipp Konrad Moritz Geiss (1805-1875) in Berlin. The younger of the two studied at the Gewerbeinstitut in Berlin, then entered a year of practical training in iron casting in Gleiwitz and Malapane in Silesia before returning to his parental home, where he then advanced his training in a more artistic and scientific direction. After an extended journey through England and France, he established a zinc foundry in Berlin that soon acquired major importance owing to the support and patronage of Schinkel.
Karl Friedrich Schinkel used zinc casting in architecture. The cornice of the university was one of the first major works to be produced by the new manufactory. Use of such castings in architecture grew with considerable speed. Castings of classical figures were also popular in other countries, especially since Geiss was an expert in giving the zinc cast a bronze colouring. Great works of art were also cast for important contemporary artists such as Rauch, Schinkel, Stüler, Persius, Kiss, Schadow etc., and many everyday utility objects were sold commercially. Zinc casts soon became popular as a result.
Geiss published pictures of his works in a series of books entitled: "Zinkguß-Ornamente nach Zeichnungen von Schinkel, Stüler, Persius etc." (Berl. 1841-52, 21 issues). The prototype by Johann Heinrich Strack can be found in issue no. 14, 1846, Plate 1, No. 2.
Among other works, the firm of Geiss also provided the figure of Victoria for the Victory Column in Siegburg (modelled on a figure by Christian Daniel Rauch). The two Victorias in the Orangerie of Schwerin Palace (the original zinc casts were lost and were only recently replaced) were similarly made by Geiss.
In the years between 1825 and 1832, Strack worked for the studio of Karl Friedrich Schinkel on furnishing the apartment for Crown Prince Friedrich Wilhelm in the Berlin City Palace, and between 1827 and 1832 under Friedrich August Stüler on remodelling the palace of Prince Karl. In 1841, Strack was appointed Professor at the Kunstakademie, where he had taught architecture since 1839. In 1842, Strack joined the Hofbauamt as an inspector of court buildings and rose to the rank of Geheimer Oberhofbaurat. In that position, Strack was primarily in the service of the successor to the throne, Prince Wilhelm von Preussen. His responsibilities also included designing interior fittings and furniture. In 1850, he became a member of the newly established Technische Baudeputation. He was appointed Professor at the Berliner Bauakademie in 1854, as the successor to Stüler.