Elfenbeinhumpen "Lebensalter"
Ivory Tankard 'The Ages of Man'
Ivory, carved, silver gilt mount
Nuremberg 1685 / 86-88
Hans Nicolaus Müllner (Master 1644-1688)
Height: 23 cm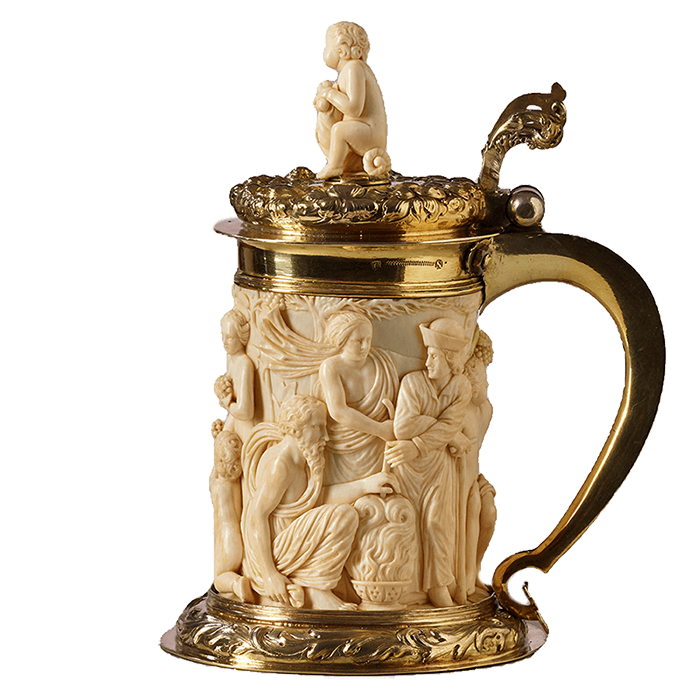 Details
The figurative relief of the tankard shows not only scenes of the ages, but also the abundance of nature in summer, autumn and winter. It is this connection, rather the equation of the course of the seasons with the course of human life.
Original is the idea to start the sequence of the depicted images with the carved finial of the lid: There sits a child with a cornucopia overflowing with fruit. The images continue on the carved ivory cup of the vessel, with a young couple; the youth is to be seen at his marriage proposal. This is followed by the heyday of summer, when the couple is depicted with flowers and fruits in a basket and in a cornucopia. Then, to the surprise of the beholder, the wine god Bacchus appears on his barrel, collecting the juice of the grapes in a bottle, while a kneeling putto gives him more grapes. The final picture of the winter shows a seated man depicted as a striking old man, the now-aged couple grouped around a warming fire.
The frieze, carved in parts in low relief and conceived in parts in high baroque, cites motifs from classical antiquity in the curves and draperies of the robes.
The puzzle of Bacchus's involvement in the sequence of scenes is easy to solve: this is probably due to the request of the client, who wanted to surprise his guests with this gimmick. Life is shown only by its good side, even the winter is rendered by the burning fire without its horrors and its distress. The abundance of nature here gives the people zest and joy for life and their representative and symbolic figure is of course Bacchus.
The masterful setting made of gilded silver does justice to the quality of the virtuoso carving: The smoothly running acanthus frieze on the arch of the foot ring and the protruding lids with opulently decorated leaves and flowers are not subservient but serve in their calm solidity and indeed give a powerful contrast to the abundance of movement of the figures of the carved ivory body. This is particularly evident in the unusually lavishly-modelled thumb rest above the elegantly curved handle.
Known examples from the oeuvre of the goldsmith Müllner include a magnificent centrepiece in the shape of a rising horse with Cupid, today in the armoury of the Moscow Kremlin, as well as a trophy made in 1681, today in the collection of the Germanisches National Museum, Nuremberg. Furthermore, a monumental tankard almost 30 cm high, is in the Metropolitan Museum New York, which displays the four continents as an image program and possesses a similarly pronounced handle with an armorial cartouche.
Literature:
K. Tebbe / R. Schürer, Nürnberger Goldschmiedekunst 1541-1868, Vol. 1, Germanisches National Museum, Nuremberg 2007, No. 599 and No. 27